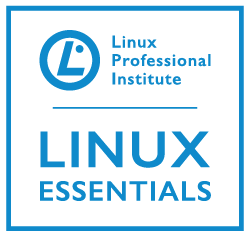 El Curso de GNU Linux L1 es un curso teórico – practico enfocado a todas aquellas personas, empresas o instituciones que deseen usar un sistema GNU Linux y no posean algún conocimiento de este.
Para este nivel introductorio no hay pre-requisitos, pero se recomienda tener conocimientos de informática a nivel de usuario (Uso del navegador web, Herramientas de Comunicación, Herramientas Ofimáticas).
<< Excelente programa y excelente instructor, el curso cumplió con el cronograma planeado, las clases fueron dinámicas y lúdicas. La práctica permitió un aprendizaje real. >>
<< Todo esta excelente, muy bien explicado. >>
<< Excelente curso, me encuentro satisfecho, un gusto aprender con ustedes. Que le hace falta, NADA cumplieron con mis expectativas. >>
<< El curso está muy bien, creo que de los pocos o el único que se instalan varias distribuciones, desde 0. >>
Módulo 1 - La Comunidad Linux y la Carrera OpenSouce
1.1 Linux Evolution and Popular Operating Systems
Weight: 2
Description: Knowledge of Linux development and major distributions.
Key Knowledge Areas:
Distributions
Embedded Systems
Linux in the Cloud
The following is a partial list of the used files, terms and utilities:
Debian, Ubuntu (LTS)
CentOS, openSUSE, Red Hat, SUSE
Linux Mint, Scientific Linux
Raspberry Pi, Raspbian
Android
1.2 Major Open Source Applications
Weight: 2
Description: Awareness of major applications as well as their uses and development.
Key Knowledge Areas:
Desktop applications
Server applications
Development languages
Package management tools and repositories
The following is a partial list of the used files, terms and utilities:
OpenOffice.org, LibreOffice, Thunderbird, Firefox, GIMP
Nextcloud, ownCloud
Apache HTTPD, NGINX, MariaDB, MySQL, NFS, Samba
C, Java, JavaScript, Perl, shell, Python, PHP
dpkg, apt-get, rpm, yum
1.3 Open Source Software and Licensing
Weight: 1
Description: Open communities and licensing Open Source Software for business.
Key Knowledge Areas:
Open source philosophy
Open source licensing
Free Software Foundation (FSF), Open Source Initiative (OSI)
The following is a partial list of the used files, terms and utilities:
Copyleft, Permissive
GPL, BSD, Creative Commons
Free Software, Open Source Software, FOSS, FLOSS
Open source business models
1.4 ICT Skills and Working in Linux
Weight: 2
Description: Basic Information and Communication Technology (ICT) skills and working in Linux.
Key Knowledge Areas:
Desktop skills
Getting to the command line
Industry uses of Linux, cloud computing and virtualization
The following is a partial list of the used files, terms and utilities:
Using a browser, privacy concerns, configuration options, searching the web and saving content
Terminal and console
Password issues
Privacy issues and tools
Use of common open source applications in presentations and projects
Módulo 2 - Encontrando tu Camino en un Sistema Linux
Módulo 3 - El poder de la Linea de Coandos
Módulo 4 - Sistema Operativo Linux
Modulo 5 - Seguridad y Permisos de Archivos
Nos basamos en la metodología de transferencia de conocimiento y no en el anticuado modelo de capacitación. 
Temario y Obgetivos de LPI Linux Essentials
Contenido adicional Basado en los cursos NDG Linux Essentials de Cisco y Introduction to Linux de edX
Es el curso más económico del mercado con instructor en vivo.
Horas de consulta en vivo con el instructor.

Instructor certificado por la Linux Foundation con más de 7 Años de experiencia.

GNU/Linux es un sistema operativo que cada vez tiene más fuerza en el empresas y usuario doméstico.
Lo que aprenda en este curso le servirá de bases para iniciar con una carrera de TI.
Aprenderá nociones de seguridad de escritorio y el por que un sistema GNU Linux es más seguro.
Si quiere dejar de usar software pirata.
Aprenderá a adaptar el sistema operativo a sus necesidades y no usted adaptarse a el.
Edad mínima es de 13 Años.
El curso inicia con mínimo 5 participantes y máximo 10.
Medios de pagos habilitados: Transferencia Bancaria, Efecty, WesterUnion, Visa, MasterCard, Diners, American Express.
Costos de transacción son asumidos por el estudiante. (+5%)
No se realiza reembolso.
Los exámenes no hacen parte de las Horas del curso.

Participante que no asista a máximo 2 sesiones no obtendrá el certificado de asistencia

Si el estudiante opta por la certificación, esta se realiza de forma escrita con sobre cerrado.